RSS
Website Owner Business Resources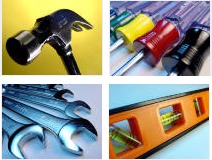 When you're a website or business owner, business resources are like a tradesman's toolbox - everything you need in one place. Here I share those links and PDF downloads which will help you in your planning. I use these links to help my Clients, and I'm hoping they may help you too. Enjoy!
Please note that some of the links below are affiliate links to products which will earn me a commission. These are all things that I have either experienced or have first-hand reports on, and which I am recommending because they are helpful and are also companies I trust, not because of commissions I may earn.
Blogging
WordPress.org: The #1 Blog Publishing Platform. Free, easily customizable, excellent support. (Not to be confused with Wordpress.com which doesn't allow advertising & other normal features/modules/plugins).
WordPress Plugins: Download any plugins, widgets, or customizable elements for your WordPress blog.
Woo Themes: The ultimate resource for premium WordPress themes - beautiful designs, great coding, very nice indeedy.
Hosting & Domains
Hostgator: This is my #1 recommendation for hosting. Easy to use, 1-click automatic WordPress installation. Excellent customer service - best I've come across.
BuildAWebsiteTonight.com Domains: my own domain website.
Product Distribution & Shopping Carts
E-Junkie: This clever little shopping cart is so easy to use, I've used it for ebook sales. Compatible with Paypal Standard, Paypal Pro, Google Checkout, Authorize.net, TrialPay, Clickbank & 2CheckOut. Very low price to use. Set up your own affiliate products to sell.
Clickbank: Another digital products retailer. Probably the most popular. Decently priced, but comes with an amazing affiliate program for your products.
Paypal.com: Paypal is just ok for selling your own products through them, but you'll need an account anyways to configure with and accept payments from the above shopping carts.
Keyword Research
MarketSamurai: Absolutely top-notch keyword research software, very reasonable one-off price, I use it daily and highly recommend it.
Advertising Stuff
Google Adsense: Make money by placing relevant ads on your website that are generated from advertisers using Google Adwords. This is free to use, but you have to register for an account.
Google Adwords: If you want to begin advertising on Google, you can select keywords and locations and you pay each time someone clicks on your advertisement.
Email Subscriptions & Marketing
Aweber: The internet's absolutely best, most powerful email opt-in service and email marketing/broadcasting tool. I use this and it is fantastic from 10 to thousands of subscribers.
Testing Results
Google Analytics: Google's free website tracking and analytical tool. A must have for anyone with any type of website.
Clicktale: You can use clicktale to watch actual recordings of how people use your website. It is actually like watching their own computer screen, so you can then optimize your website if you don't like what you see. You can view a small sample of website viewers for free. It will cost more for a larger sample.
Google Optimizer: This is another free tool from google where you can test different webpages of the same content, only changing one or two things, so you can see which one works/converts best. It's basically a website optimizer testing tool.
Outsourcing Work
Elance: Hired service for just about anything you can think of.
Odesk: Another outsource website for freelancers, IT companies, programmers and web designers from abroad.
99Designs: This is a unique website that you can use if you need a logo design. It's in a contest format. You submit the description of what you want, and designers will compete against each other to win money.
Books
For Capturing Video and Screencasts
Google's Additional Swag of Productivity Tools
Gmail.com
- Email - personal and business
I highly recommend each client create a Gmail.com email account for their business.  There are many tools Google provides business owners, and generally you will need a Gmail name to be able to login and access. Once you set up the account, you simply redirect the emails to your normal website email name if you so desire.
Google Webmaster Tools (new page opens)
If my clients haven't signed up for the free Webmaster Tools, I help them set it up. An invaluable resource giving you inside information you won't find in your hosting statistics, and many tools.
Google's Search Engine Optimisation (SEO) Starter Guide (PDF download)
This is an excellent resource to get you started on your path to understanding all about SEO - from the people who really know. Once you understand how it all works, you will be able to do your own SEO for each page of your website. Yes - EACH page of your website. This is an ongoing maintenance tool for all website owners who wish to keep up-to-date on how to make sure their sites appear in the Search Engine Results Pages (SERPs).
Site Report Card (new page opens)
"SiteReportCard provides free website analysis, optimization and promotion reports. Our tools offer valuable information to help improve your web pages and increase your search engine ranking."
Google Insights (new page opens)
With Google Insights for Search, you can compare search volume patterns across specific regions, categories, time frames and properties.
I hope you find the list above helpful on your website and business journey.
Cheers
Teena Hughes