RSS
How to Transfer a Domain to BuildAWebsiteTonight.com
Before you start the TRANSFER process, you need to (1) Unlock your current domain and (2) copy the EPP code for your domain (your current Domain Registrar will help you with this).
After you've done this, please follow the quick video below which will show you how to transfer a Domain to BuildAWebsiteTonight.com.
"
This sounds too complex

/ I don't have the time /

Can you do this for me?

"


If you would prefer us to do this for you, please contact Teena to schedule - the fee associated with this is $75.00

. .

The reasons you may wish to transfer a Domain:
you may wish to have your domain and hosting with the same company in whom you place trust
you may prefer to reduce your .com.au Domain Registration fees by moving your domain to our company
you may already have a domain registered with us, and prefer to keep them altogether.

Whatever your reasons are, the process is relatively simple.
FIRST STAGE
Login to your current Domain Registrar:
you will need to UNLOCK your domain (for full details please contact your current Domain Registrar to find out how to do this)
locate the EPP key (a code required to prove your ownership of the Domain); you may need to copy it from the computer screen, or it may be emailed to your registered email name
both of these steps need to be done BEFORE you commence the Transfer Process.
SECOND STAGE
click the TRANSFER button in the top menu (Step 1 on the image below)
click the button:




if you are not already a Member of this website, click the Become a Member/Register Now link
fill in the Registration form which will create an Account on our Domain website; you need to do this in order to Login and complete your Domain Transfer process
after registration, follow the steps outlined to start the TRANSFER process
as soon as you've done that LET US KNOW IMMEDIATELY VIA EMAIL - email us your new Login details - as we will need to login to your new account and 'point' your domain name to your 'live' website.
How long does this take?
Expect the whole process to take 24-48 hours AFTER you've clicked the final approval email.
You can Login to your Domain Account at any time
Go to http://Domains.BuildAWebsiteTonight.com and fill in your details in the Member Login section of the webpage (Step 2 (on the image below):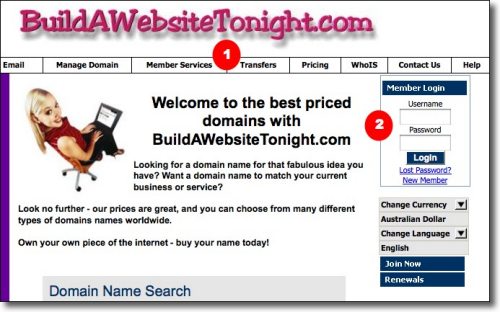 The 9 Step Process at our Domain Website
The Registrant will need to become our member through our web site to proceed with the transfer. If the Registrant is already a member then they only have to log-in.
The Registrant selects "Transfers" from the main menu and then "Transfer from another Registrar" from the sub-menu.
The Registrant is prompted to enter the domain name they wish to transfer to our Registrar through our web site.
Our Registrar will send an email to the Registrant informing them that their transfer request has been noted and will be actioned within five (5) days.
Our Registrar will conduct a WhoIs search to verify that the Registrant is in fact the owner of that domain name. Once ownership has been validated an email will then be sent to the Registrant informing them that the transfer has been approved.
If our Registrar does not confirm within the five (5) day time frame then the transfer request will be rejected.
Our Registrar will send an email to the Registrant admin contact requesting authorization of the transfer in writing by reply email.
The Gaining registrant will need to accep our Service Agreement and will then be prompted to enter their billing information.
The Registrant's credit card will be charged.
.