Build Your Own Website Easily
Teaching you how to turn your website into your best friend, one step at a time!
Business owners - need to build a website? Professional websites bring traffic and build business - I can help you make that happen.
My name's Teena Hughes and BuildAWebsiteTonight.com is my passion - I'd love to help you to build your own website easily and help your business to succeed online!
Have you heard about MOBILE APPS? How would you like your little APP on potentially hundreds, thousands or millions of cellphones / mobile phones? Talk to me today to find out about this new service I'm offering to my clients - send me an email & let's chat about your idea >

Here's a quick little video - 35 seconds - which you might enjoy:
View on Youtube: http://www.youtube.com/watch?v=lFxarhAUZDk
Looking for quick testimonials from my recent Clients? Head over here >>
The focus for the end of this year is SEO (Search Engine Optimisation/Optimization)
I'll be sharing simple SEO tips with my clients and newsletter subscribers, so if you haven't signed up yet, now's a good time to do so - Your Biz Hot Tips >>
Having trouble getting YOUR
website started?

I can help make it happen - fast! Here are a few of the services I provide for folks like you:

 
| | | |
| --- | --- | --- |
| | | |
| Ready to build your own website? Have you done any research yet, or would you like to chat about your ideas? I'm ready when you are :-) More> | Your website needs to look great on a mobile phone/cellphone. One which is streamlined and compact and will reach twice as many people now using smartphones - don't miss out. | Using a Facebook website (for Fan pages/business pages) for marketing puts your business product or service in front of a super-targeted demographic. More> |
| | | |
| Did you know that you can use Youtube as an additional mini-website for your business? Find out how! More> | Using SEO to bring targetted traffic via organic searches is a must for your website marketing strategy. More> | Looking for ways to boost your marketing? It's time to look at some clever and innovative strategies. More> |
| | | |
| Adding 2D Code marketing to your strategy is one of the best moves you can make this year. It's "the Jetsons" at last! More> | Educate your potential customers with great, short little video clips about your products and services. More> | Website/Facebook/Twitter not performing well? Time for a TUNE UP! I'll do a thorough review & let you know where improvements can be made. More> |
....
. .
Is it time for you to get your website online, whether it's a simple brochure-style website or a feature-rich website using many interactive modules - or something inbetween? Maybe you already have a website and it's time for an overhaul?
Whatever the scenario, let me help you build your own website, and take your business, passion or hobby from OFFLINE to ONLINE.
And if you're on a really tight budget, don't despair - we have a solution for you too!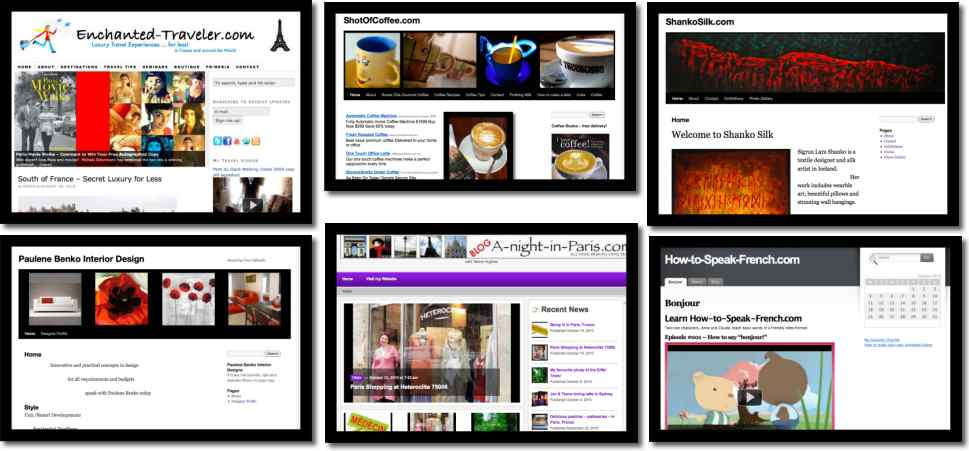 Small sample of my Client websites - read more >>

Having your own website is as easy as 1, 2, 3! I'll even show you how to get targeted traffic from the search engines, and if you don't know anything about Search Engine Optimization (SEO), don't worry - I can help you learn enough to boost your website's traffic.
I'd love to help you to understand why content is key to gaining website traffic, and how you can use SEO to show up in the search engine results pages (SERPS) for your own niche (category).
If you're ready to take the step to having your business or passion on the internet (so you can be found by potential customers), contact me (Teena) today to get started, or pop over to the online Website Quotation form.
To find out more about me and some of the valuable information I love to provide to clients and website visitors alike, please enjoy the website and let me know if you have any questions at all - I'd love to help.
Website Options
From Custom Designed to DIY websites (build your own website), we can help you.

Please view our Website Options here >>
Marketing
Getting your website online is the first step to success, and once it's launched, you need to think about the many ways to market your business, products and services.
From Search Engine Optimization (SEO), to Social Networking and Video Marketing, I can help your website appear right across the internet for your chosen keyword phrases.

Please view my
Marketing Options and Solutions here >>
It's time to build your own website
I look forward to discussing your website ideas with you, and helping you build your own website - to find the right solution with total control handed over to you - contact me today for more info.
In case you're wondering, SEO stands for search engine optimization (and with UK English spelling:  search engine optimisation), SEM stands for search engine marketing.
We have clients all over the world including USA, Canada, Europe, France, Iceland and Australia. We're based in Rozelle NSW 2039 which is close to the heart of Sydney NSW 2000, and we support the local areas including Rozelle, Balmain, Inner West, Leichhardt, as well as further afield - Melbourne Vic, Perth WA, Brisbane QLD, Darwin NT, Hobart TAS, Canberra ACT, Auckland NZ, Adelaide SA, Cairns QLD.
Talk to Teena Hughes today to see how we can help you - via email on our Contact page or via phone (+61) 0408-801-808.


Add A Comment