What are the tricks to getting the best traffic coverage for my website?

Hi there Ray!
Thanks so much for taking the time to fill in my Questionnaire about websites.

Apologies for not getting back to you sooner, but I had an overwhelming response and I wanted to write personal messages to each person who took time out of their day to complete the Questionnaire.

OK - let's get started! Here are the two main questions you posted:
My Question 1:  What is your main question about websites?
Ray's Question:  what are the tricks to getting best coverage?
I'm not 100% sure what you mean here, but I think you may be wondering about how to get your website out there on the internet and seen by many folks. Am I right? If so, then there are lots of ways to get your website link and description published on the internet.

Getting people to come back to your site and sign up for 'more information' can take a bit more work, but it's definitely achievable by anyone - even folks with no web skills or very little online skills.

. .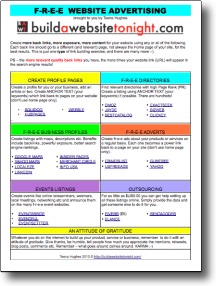 Here are some ideas for you:
My Question 2:  If you could only ask me one question about websites, blogs and the internet, what would it be?
Ray's Question:  Is my web site theme and layout going to draw interest?


It's a bit tricky for me to answer this question without actually seeing your site's theme or layout, or knowing what your business is about. If you'd like to show me/email me a link or image, I'd be happy to have a look for you.
For some practical tips to consider, I would suggest there are several things which will make people want to stick around and read more on a website, and here are a few:
make the site enjoyable to look at - this doesn't mean spending a lot of money, it just means it should be easy on the eyes - no flashing, jumping, moving text or images (unless they're videos - and NO MUSIC, or anything which starts immediately)

when someone lands on ANY page of your website, what is it that you would LOVE for them to do? Sign up for more info (having a newsletter means you've got their email address - fantastic! Now you can go back to them with fresh info.). Buy something - do you make it easy to work out where your products/services are and HOW to buy/pay for them? Do a quizz (keep them engaged in your subject matter). Offer them an incentive - ebook etc - to download AFTER they do whatever it is that you wish.

if someone landed on one of the internal website pages, could they immediately tell what the site's about?

is your website name & slogan (or brief description) prominent at the top?

are your contact details visible? phone number at the top of the page, if you want folks to call you?

can they QUICKLY tell what the PAGE is about, without having to read all the way through?

is there something which will immediately grab their attention, like a quick video about your site?
These are just a few short tips, and I do hope they help you to move forward with your website.

If you have any other questions, please let me know and I'll do my best to help out.

Ciao for now,
Teena!
Related Pages
Add A Comment