SEO Training Course for Beginners
Searching for an SEO Training Course which makes sense?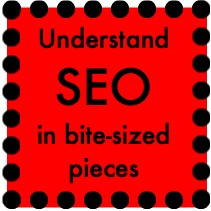 I love to teach people about SEO, because I like to explain how it works in the simplest possible way, so that everyone — including newbies — can understand.
I love it when a Student "gets it" in this training — it's such a joy to know I've helped someone else understand enough about SEO to help them with their website and business online.
My next SEO Training Course for Beginners is scheduled to launch on:
Friday 30th August 2013
Course Fee is $US97.00
Early Bird fee is $US85.00 (if you pay before Monday 26th August 2013)
secure your place today – make your Secure payment online and type in the amount:
In this comprehensive video training program you will:
Find out what SEO is, how it works, and why you actually have a lot more control over your search results than you think you have.
Discover the best free tools for thinking like your ideal clients, and finding those juicy keywords they are likely to type into search engines – so they can find YOU.
Learn the super-duper easy-peasy step-by-step breakdown of how I write my blog posts for maximum readability and SEO benefits – you too will be able to do this as soon as you finish my Course.
Find out the one free thing you must have in place if you want to Google to be your website's best friend.
READY?
Sign up today! http://buildawebsitetonight.com/make-payment.html
See you on the Course!
Teena Hughes
Teena your SEO training works! I just had to write to you as I am so excited! I just searched for my main 3-word keyword phrase and my site is now Postion 1 & 2 on both google.com.au and google.com – out of 1.5 MILLION results!!! I can't believe it and I can't thank you enough for your SEO Training!! Update  March 2013 – none of my pages have been affected by all the Google algorithm changes – Teena's SEO was done properly, and brings new traffic every day!)
Anca, AnkaDanka Designs, Australia
I want to give a quick video testimonial for Teena – we met about a year ago – whenever we catch up I just walk away with so much information. She gives away so many gems she's priceless. One idea Teena gave me in the first 5 minutes of one of our meetings was an idea for a new business which was using Skype to create video production. Thanks Teena — I know you give away so much information on your website and in your blogs, thanks for your great work!
Matt, Ezi Web Video, Australia
Teena's "How to Create SEO-Friendly Images" Video Course:  I thought I was doing this the right way (that is, uploading the images for the website), taking time re-naming them etc. Then I saw this video Teena created and quickly realized I got it all wrong! What I had done did not make any sense. Thank you Teena for showing me the light !!! I am now carefully going through all the images and giving them the correct name that will correspond with the SEO. I can not thank you enough Teena. You are always thinking of making our lives easier.
Sigrun Elivogar, Iceland
Teena, thank you for all your help with my website, you've been wonderful in guiding us through our first foray into the web and making it all a little less scary! I love your Newsletter! My most immediate result from your fabulous tips was using the 30 Second Elevator Pitch!
Kim Mullins, Australia
Hello Teena, thank you for your time and patience! Getting great reviews for the website!  The video was perfect. THANK YOU A MILLION TIMES!!!
Chris Mdaps, USA
Teena provides fantastic pre-customer service that is unbelievable.  Helpful and knowledgeable are two qualities that don't always go hand in hand, yet Teena has an unbeatable combination … I would recommend you speak to Teena first and last.  Thanks so much, Teena, you've helped so much.
Narelle Stratford, Sydney