Welcome to the BuildAWebsiteTonight.com Client Ezine by Teena Hughes


Is it just me or did this week go by blindingly fast?? It must be a sign that I'm enjoying myself :D
So how has your week been? Have you managed to implement any of my tips or suggestions? Had any tricky bits whilst doing so? Please do post a Comment and let me know - I'd love to help.
I get lots of questions from people on small or non-existent budgets for advertising their websites, and I have lots of great suggestions which I have turned into a one-page cheat-sheet for you. You can read more below.
I've been working on my new DVDs to help people when they're planning their websites, and I might ask for your help soon by answering a few questions; but not today :-)
Welcome! | on Youtube

For those who prefer to read their newsletters, scroll down past the video.

<< For those who are happy to watch and/or listen, please click the video icon at left to get started.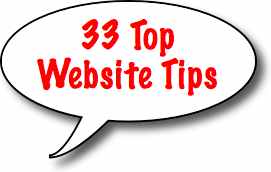 For those of you who have signed up and are following my '33 Top Website Tips', I'm absolutely thrilled with the comments and feedback - thanks SO much for taking the time to write!
I'm also extremely pleased to hear that my tips are helping some of you get your websites organised - woohoo! Here's a testimonial from Geoff:
Wow, what a lot of excellent info Teena!
I sure still have a lot to do, not to mention writing articles etc as well.
I prefer the pdf version rather than videos as I can always go back and re-read / study the material I am learning.
All of this info for FREE is awesome and much appreciated. Thanks SO much.
Geoff
Note from Teena: Geoff, thanks for great feedback! Please note though the the PDF only contains the topics, not the content of the videos :-)
.

Don't forget - if you've signed up please let me know your thoughts and questions - I've created a new Questions & Answers page for the series - and I'll reply a.s.a.p.
OK - ready for this week's news? Off we go!
Cheers,
Teena


Teena Hughes,
Helping Clients Build Websites and Businesses
Internet & Video Marketing Specialist
Coach for Online Business Managers


Online Coaching with Teena

When you're ready to take the next step with your online marketing, you might like to consider my online coaching. If this sounds like something you need ... keep reading >>

 

New Article: Fr-ee Website Advertising Cheat-sheet
This one page cheat-sheet gives around 26 different ways to place your links to your website online - at no cost whatsoever.
The direct link to download the PDF is available for my Clients in the email I sent. Everyone else can pop over to the webpage and download the PDF. There are 26 top tips for finding fr-ee website advertising - I'd love to hear what you try, and whether it works for you! Remember - you must TRACK and TEST the value of these links you put out there on the internet, otherwise you'll never know if or how they perform. Hint - check your website statistics regularly :-)
... keep reading >>

New Article: Social Media Cheatsheet
This week I came across a marvellous downloadable PDF which clearly outlines the different types of social media.
If you've been wondering HOW to use social media, this cheatsheet will give very clear information on:
customer communication
brand exposure
traffic to your website
and SEO.
To grab your own copy ... keep reading >>

New Video Article: How to add Social Bookmarking icons to your blog and website

Have you noticed I've add new social bookmarking icons to the top of my blog posts and news pages on my website? Here's how I did it ... keep reading >>


"Scribbles" Drawing Tool for Mac
One of my clients, Anca, contacted me this week to share some sketches she'd done for her quilting website.
Anca used a little tool called Scribbles for Mac and was able to get some great results very quickly.
... keep reading >>

Teleseminar with Teena - "What is SEO?"
Date and Time: (check pre-set time in your location - new window opens)

USA: Monday June 21, 2010
- 4:00pm Los Angeles | 7:00pm New York
Australia: Tuesday June 22, 2010
- 9:00-9:30am Sydney


In this 30 minute teleseminar, I'll be giving a brief overview of SEO and answering a few questions.
As this will be my first teleseminar using this system, I'd appreciate your patience if it goes "pear shaped" :-)
All feedback after the event will be welcomed, and can be emailed to me here >>
In this teleseminar, you'll learn:
A few basics about Search Engine Optimisation, and how you can use it in your own websites and marketing plans.

If all goes well, the Teleseminar will be recorded and will be available to you after the event.

if you have Questions about SEO, please submit them by the 20th June via the website form >>

to sign up, please email me for this first one :-)

BuildAWebsiteTonight.com Blog
Here's what's happening on the BuildAWebsiteTonight.com Blog:

Teena recommends ...
I use many wonderful tools for my website and business, and I'm happy to recommend them to you.
Market Samurai is the absolute best keyword tool on the market. Sign up for a fr-ee trial and see what everyone's talking about.
Animoto is a fabulous online tool for making your own quick videos from photos and music. Perfect for all business owners.
Aweber is my choice for newsletters, simply love it.
Marketplace
Automate your business with Newsletters & Autoresponders. I highly recommend aWeber's email marketing software to help you bring new interested folk to your business. Creating Newsletters and Autoresponders becomes so easy to keep in touch with your followers and to build your business. I have been using this company for quite some time now and have saved time and money by automating many processes in my business building. Check out:
aWeber Email Marketing >>

About Teena
Teena Hughes, founder of BuildAWebsiteTonight.com, is a Business Management & Internet Marketing/Social Media Strategist who helps business owners learn that marketing themselves online can increase their business success tremendously.
If you liked today's Ezine, you'll love Teena's weekly YOUR BIZ HOT TIPS Video Ezine and online business training products to help you market and grow your own business.
You can learn more about Teena's products and services here >>