RSS
How to Create a Newsletter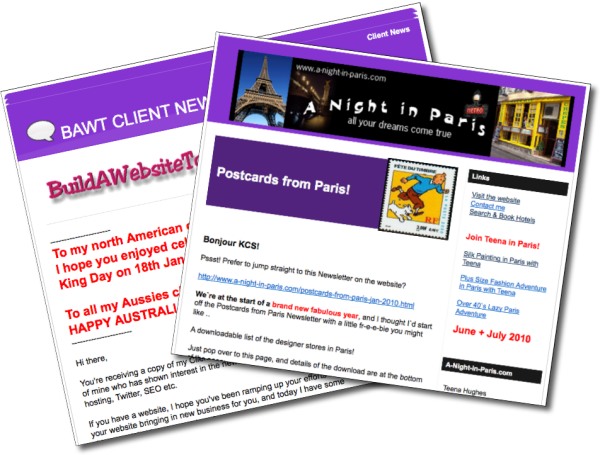 Do you want to know how to create a Newsletter, but it all seems too hard?
You have probably heard how important it is to have a Newsletter sign-up on your website or blog, but you just don't know how to go about it.
Many people tell me that they are happy to sign up for the Newsletter service, but the actual thought of putting it all together just seems too hard, too time-consuming, and too much trouble.
In an effort to help my clients and website visitors, I now offer the Easy123 Newsletter Service - after your account is set up with the Newsletter software company, you send me the text and images and I create and send out the Newsletter for you.
I can do this for each Newsletter for you, or you can choose to do this yourself as you gain confidence.
Sound too easy? You're right, it is! :-)
Easy123 Newsletter Service
If you don't have the time to set up your own email newsletter, BuildAWebsiteTonight's Easy123 Newsletter Service is designed help you.
Step 1 : Easy123 Newsletter includes a meeting with you (or phone call):
We'll chat with you, work out exactly what you'd like to achieve with your email Newsletters.
We help you create your account and set up monthly or annual payments via credit card.
Next we review the requirements for permission-based email addresses -- and we explain what this means in easy-to-understand language.
The next step is to define your mailing lists and import your list/s of permission-based email addresses (you will need to provide either Excel or CSV file/s of email name lists).
We will help you choose the way you would like your Subscribe form to look (from the many templates available) then we generate the necessary Subscribe and Unsubscribe forms which will need to be added to your website. (We can provide the html to your webmaster to include on your webpages.)
We'll spend a dedicated hour to acquaint you with our Easy123 Newsletter's key features and show you how to use the WYSIWYG editor (we also provide links to video tutorials which you can follow at any time).
You will now be ready to :
build your first email newsletter or email campaign
select a template for the 'look' of your newsletter
review how to schedule your newsletters or email campaigns
view and understand the simple report statistics.
All of this all for one fee of
$A250.00
Now you're all set to get started! Or ...
Step 2 : If you're too busy to prepare each newsletter or email campaign
You may be too busy (or a bit nervous) about setting up your Newsletters or Email campaigns, so we'd like to help.
For a one-off fee of $75 per Newsletter, you can send your text (up to 10 paragraphs) and image links (up to 10) to us via email, and we will create your Newsletter for you.
If your Newsletters are more complex, please let us know and we will provide a quotation based on your needs.
Are you ready to get started?

Simply follow these steps:
click the blue square below to sign up through us for your Email Newsletter Software
once you have done that, please contact us and provide your Login name and Password, so that we can help you start the process.

Please note that prices quoted above are based on you signing up via the blue box on this page. If you sign up independantly, please let us know and we will provide a quotation for you.
Got questions? Call or email and we'll answer your questions as quickly as possible, and help you get started on your Newsletter!