How to Back Up All Your Social Media Automatically
I was talking with my friend Pete last week about Facebook where he'd recently been building some excellent content and conversations for one of his clients.
Why You Need to Back up All Your Social Media Data starting today
I reminded him that all content created on Facebook is pretty much owned by Facebook — and what I mean by that is that he has very little control over what happens to it.
When the page scrolls on a Facebook business page, all that content is "gone", out of sight, can't be searched, can't be used by the person/people who created it … and what a shame that is!
One suggestion I had was to back-up his Facebook content and add some of it to the business blog, over which they have total control.
Why is this so important?
My reasons for saying this (which some might think are crazy statements) is that if Facebook (or any other site where you build a lot of content) disappears over night, is bought out, etc then you lose all the hard work, all those comments, all those relationships.
Yes social media can be great for business, but the ultimate goal should be to encourage all those followers (and folks with whom you have conversations) to visit your WEBSITE and sign up for juicy content or something to ease a pain or problem the potential subscriber might have.
For example, start a conversation on Facebook then offer a PDF or other piece of media along the lines of the "Top 3 Reasons You'll Want To Know How To XYZ" (where you come up with the "XYZ").
If you follow this technique, you now legitimately have the email name of the person, and you don't need Facebook to be the go-between. This is crucial so that if Facebook (or other social media websites) disappears or changes their algorithm or rules overnight, you'll still have access to that person who enjoyed the initial conversation and who signed up on your site to know more.
How to get Facebook followers to sign up on your website? Stay tuned!
I'll be writing more about how to do this in a future post, but THIS POST is about how to BACK UP all that juicy data on Facebook and other social media accounts, so it's not lost to you forever.
Back to the main story:  How to Back Up All Your Social Media Automatically
There is a clever solution online just waiting for you to discover it, use it and love it 🙂
It will back-up your data on all your social media accounts — and then continue to do it automatically until you tell it to stop.
What's not to love?
It's called Frostbox and is only $US6.99 per month or $US69.99 per year (as at April 2014), for ALL the data you need to archive.
Frostbox is :
automatic
inexpensive
a one-stop service for backing up your social media accounts, Gmail accounts and  Evernote accounts in one easy-to-use platform.
Go sign up today — and take back control of ALL the great content you've been creating on other websites!
Please note Frostbox currently backs up Personal Profiles on Facebook, and will shortly be implementing back ups for Facebook Pages (for businesses, events etc).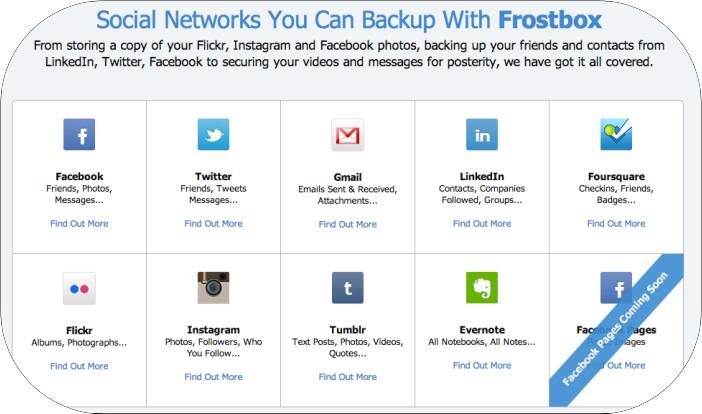 Your Say about Social Media Back Ups
Do you use something else for back ups of social media data? I'd love to hear what you use and your experience with it – pop a message in the box below or contact me on Facebook, Twitter etc.