How do I work out which keywords to use for my website?
Are you wondering what the heck this even means?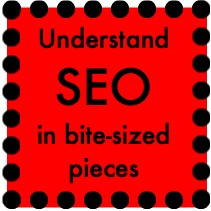 Do you keep hearing you just pick the right keywords, and then your website will magically transform into a client-getting and traffic-getting machine for you?
But — if you don't know WHICH keywords to use, how can you even get started?
If you've been asking yourself some of these questions, and feeling lost – don't worry – you're not alone.
Over the past five to ten years there have been tried and true ways to research keywords using software, or online services, and it was big business.
But here we are in 2013 (yes this article has been updated) and I'd like to tell you the easiest ways to work out what the keywords are for your business and website.
Forget the keyword and SEO software
Forget the online services
Forget that many people tell you this is complicated …
Yes, some of the old techniques definitely still work extremely well, but this is the simplest way for YOU to get started.
The secret is …
Questions.

That's right — the keywords for YOUR business and website are simply the QUESTIONS people ask about your business.
Whether you're a dog walker, or a beautician, an artist or real estate agent, an author or a management consultant, etc etc — make a LIST of questions people ask you.
That's it — it's that simple.
When you have a list of QUESTIONS, all you need to do is create one web page or blog post for each question, then ANSWER the question on that page or post.
The MORE questions and answers you provide, the easier it will be for people to find your website in search engine results.
"So Teena, HOW do I work out which keywords to use? Write QUESTIONS? It's THAT easy?"
Yes!
If you create 10 questions and answers, that's 10 new pages or posts.
What if you did 25, or 50 or even 100 questions and answers? If you answer a ton of questions which potential clients or customers ask you, and other potential clients and customers type ANY of those questions into any search engine, you'll be FOUND in the search engine results pages (known as the SERPs).
So set yourself a goal today:
start writing your list of questions
use every question you've heard in person, via email, or over the phone etc etc
start by creating one new page/post per week
if you can do more, that's FANTASTIC! do that!
The bottom line is, never stop answering questions on your website.
Each QUESTION you type becomes the "long tail keyword phrase" which people will type into a search engine.
If you've ANSWERED the question, and provided more Q&A's, they'll stay on your site and keep reading. Fantastic!
Post about them online in social media (twitter, facebook, Linkedin, etc) and on other places online where YOUR potential clients might hang out — become the "go to" person in your niche or industry, the one which ANSWERS all the questions people could possibly dream up about YOUR expertise, and slowly but surely you will start to get website traffic and visitors.
Now what you DO with that website traffic is up to you – you'll need to work out a way to turn those visitors into clients, but that's a whole other topic I'll cover another day 🙂
Best of luck, keep me posted — I'd love to hear how you get on!
Your Say
Don't forget to post a comment and let us know what you're going to try — and what your results are.  Isn't this the easiest answer to "How do I work out which keywords to use for my website?" you could imagine? It is? Great! Let's connect soon
Teena