Do I really need a website?
Have you asked, "Do I really need a website?" Are these questions below some of the ones you've been wondering about? Maybe you have more questions and just don't know the answers, don't know who to ask, and don't know WHERE or WHAT to search for?
If you read my tips and sign up for more, I'll be able to help you save time, money and work by providing the answer you need. I'll be able to prevent you spending days, weeks, months or years to learn all this stuff – because I've already done that. I can show you how to do all these things – to get started, please post your questions at the bottom of the page where it says ADD A COMMENT, and I'll answer your specific questions as quickly as I can.
If you click on the coloured boxes below, you'll be able to read my answers to these questions, written in plain and simple language so everyone can understand.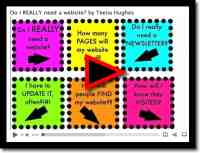 If you'd like to jump straight to the video,
click here >>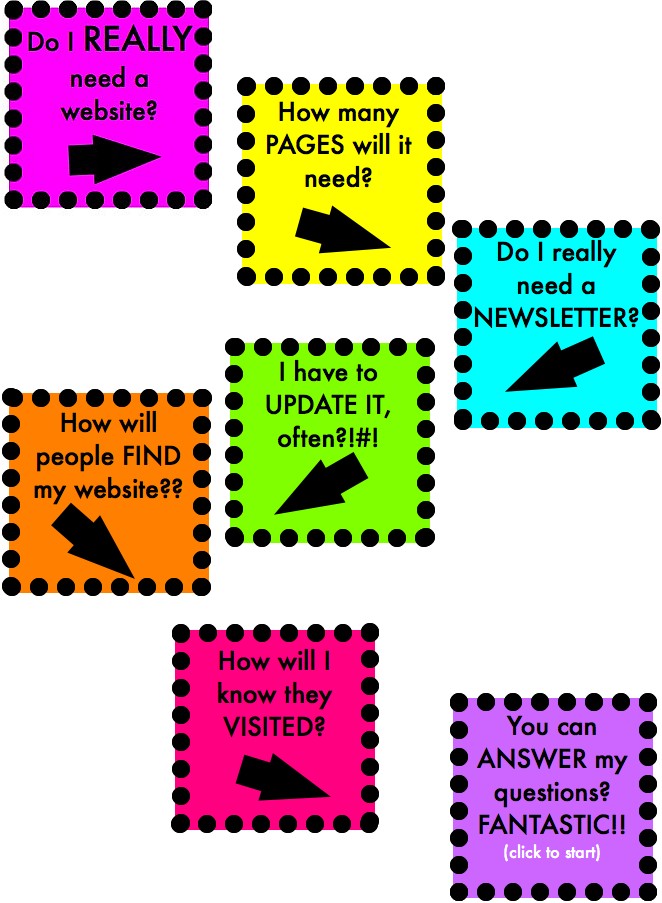 Click to read my answers to "Do I really need a website" – or sign up for more detailed explanations, sent to you by email, every 4-5 days or so.
Let me know what you think – if you post your Comments, you might also be helping someone else who's had one of these questions:
do I REALLY need a website?
how many PAGES will my website need?
do I really need a NEWSLETTER?
I have to UPDATE my website – OFTEN?!
how will people FIND my website?
how will I know they VISITED my website?
you can ANSWER my questions? FANTASTIC!
If you'd like to receive more detailed answers to these questions about websites – and many more – you might like to sign up for my mailing list, "Do I really need a website?". I'll send you information and examples on all the different things a website can be used for, including all the add-on modules and cool things you can add to your websites. Would you like that? OK then, pop your name and email address in the boxes below, and tell me your ONE BURNING QUESTION about websites – thanks for dropping by!